Play the game
FNF Vs. Jeffy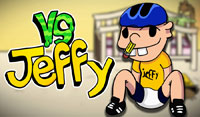 FNF Vs. Jeffy
FNF Vs. Jeffy
If you want to take on Jeffy in a series of rap battles in FNF Vs. Jeffy V2, let's start. Jeffy, a familiar face from the SML channel's videos, will allow you to sing along with him for two weeks. The first week is a great time to get to know each other by singing along to three songs that will give you a better understanding of your opponent. In the second week, Boyfriend will be replaced by other characters, who will sing against Jeffy on five songs. You'll be amazed at how much fun you'll have with this hilarious and light-hearted mod!
Tags: Boyfriend FNF, Girlfriend FNF
How to Play?
Use WASD or Arrow Keys to play FNF Vs. Jeffy Online Mod on your PC or laptop. + and – to increase/decrease the volume, 0 to mute. Enter to select. ESC to go back.