Play the game
FNF Vs. Neon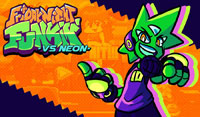 FNF Vs. Neon
FNF Vs. Neon
Boyfriend travelled to the robot world to take on his opponent in the FNF Vs. Neon mod. Discover the amazing musical world of AdventNEON's iconic hero on three tracks with insane rhythms! The fight will take place on the street in the city's core section, and it will begin with the song Highrise. Normal people cannot keep up with Neon's follow-up tune, Ordinance. As long as you can do it, Neon will evolve into Transgression, the last song with future guitar riffs, to challenge you!!
Tags: Boyfriend FNF, Girlfriend FNF
How to Play?
Use WASD or Arrow Keys to play FNF Vs. Neon Online Mod on your PC or laptop. + and – to increase/decrease the volume, 0 to mute. Enter to select. ESC to go back.