Play the game
FNF Vs. Pibby Corrupted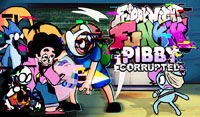 FNF Vs. Pibby Corrupted
FNF Vs. Pibby Corrupted
There are almost a dozen rap bouts versus characters from popular television series in the FNF Vs. Pibby Corrupted for Friday Night Funkin' mod. Remastered and remixed tracks are included for Pibby Corrupted Steven & Spinel and Pibby Corrupted Finn & Jake. Additionally, you'll be able to uncover new tunes as you face off against new enemies! Put your musical skills to the test as you go head-to-head in brutal musical duels against Finn, Jake, Steven, Spinel, Princess Bubblegum, and Mordecai.
The Girlfriend used her skills to create a protective barrier around her Boyfriend when the Glitch came into the Friday Night Funkin' world, and almost everyone fled. That protective barrier will disintegrate in the event of one defeat in the rap game. After that, they'll become corrupt puppets due to the Glitch.
Tags: Boyfriend FNF, FNF Pibby
How to Play?
Use WASD or Arrow Keys to play FNF Vs. Pibby Corrupted Online Mod on your PC or laptop. + and – to increase/decrease the volume, 0 to mute. Enter to select. ESC to go back.