Play the game
FNF Vs. Freddy Beatbox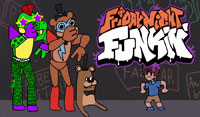 FNF Vs. Freddy Beatbox
FNF Vs. Freddy Beatbox
Have you ever dreamed about taking on Freddy in a rap battle? Mod FNF Vs. Freddy Beatbox will implement this for Friday Night Funkin's three tracks, which Freddy will sing in their entirety. Boyfriend will have to sing against the hero who scared so many people in his game Five Nights at Freddy's, but this time the rap fight will be done on upbeat rhythms and cheerful Beatboxing music instead.
Tags: Boyfriend FNF, FNAF
How to Play?
Use WASD or Arrow Keys to play FNF Vs. Freddy Beatbox Online Mod on your PC or laptop. + and – to increase/decrease the volume, 0 to mute. Enter to select. ESC to go back.