Play the game
FNF Vs. Tabi Ex Boyfriend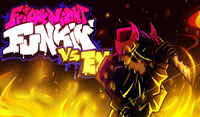 FNF Vs. Tabi Ex Boyfriend
FNF Vs. Tabi Ex Boyfriend
Tabi will confront you in a beautiful but curiously deserted mansion in this Friday Night Funkin' (FNF) mod!
The girlfriend requested you to come along with her since the father of her ex-boyfriend invited her. Her ex-boyfriend Tabi was waiting for them there. He's been looking forward to seeing her ever since she and the Girlfriend parted ways. He's enraged, jealous, and unsupportive of your relationship, and he'll challenge you to a rap battle if you don't back down. Prepare to take on Tabi in three new songs: My Battle, Last Chance, and Genocide. Sing your way to survival!
Tags: Boyfriend FNF, Girlfriend FNF
How to Play?
Use WASD or Arrow Keys to play FNF Vs. Tabi Ex Boyfriend Online Mod on your PC or laptop. + and – to increase/decrease the volume, 0 to mute. Enter to select. ESC to go back.