Play the game
Foned In (FNF Mobile)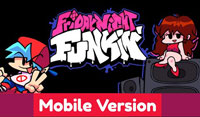 Foned In (FNF Mobile)
Foned In (FNF Mobile)
Friday Night Funkin': Foned In (FNF Mobile) is a mobile browser-adapted version of Friday Night Funkin'. FNF, which is an amazing music and rhythm game, is so popular these days. A great guy with the nickname Phykro created this mobile port for the famous FNF game. To pause the game and go to the menu, swipe left on your touch screen device. iOS and Android mobile platforms supported.
Original FNF game was made by ninjamuffin99.
Tags: Boyfriend FNF, FNF Mobile
How to Play?
Use WASD or Arrow Keys to play Foned In (FNF Mobile) Online Mod on your PC or laptop. + and – to increase/decrease the volume, 0 to mute. Enter to select. ESC to go back.