Play the game
FNF Vs. Entity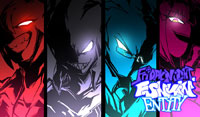 FNF Vs. Entity
FNF Vs. Entity
You can try out FNF Vs. Entity mod for a week, including four epic rap fights against four new foes! The successor of Vs. AGOTI Mod is Entity.
 Agoti's older brother Aldryx will be the opponent in the first match, which will take place between two grocery shelves to the tune of upbeat and catchy music. While in another world, Agoti will challenge you to a musical duel, and you must maintain time to overcome him. Salazar, the father of Agouti and Aldryx, will be your third opponent of the day, and their sons will be watching the action from the sidelines while you sing. This week's last opponent is Nikusa Chiragus, also known as the "Voice Queen", since she has no one to confide in. You'll be invited to join in singing with this beautiful yet sorrowful lady.
How to Play?
Use WASD or Arrow Keys to play FNF Vs. Entity Online Mod on your PC or laptop. + and – to increase/decrease the volume, 0 to mute. Enter to select. ESC to go back.