Play the game
FNF Vs. Dave and Bambi Golden Apple Edition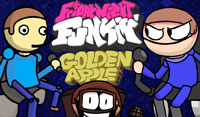 FNF Vs. Dave and Bambi Golden Apple Edition
FNF Vs. Dave and Bambi Golden Apple Edition
With the FNF Vs. Dave and Bambi Golden Apple Edition for Friday Night Funkin', you can take on numerous new musical challenges. Dave and Bambi are back, and they're bringing along a whole new cast of characters and 15 previously unheard songs and two secret ones! In addition to Bambi, Dave, and Bandu, you'll face off against a slew of additional characters, some of which will even have their song. Badai, Garrett, Hall Monitor, Ringi, and even Diamond Man are just some of the people you'll face in this competition.
The new songs in Golden Apple Edition FNF Mod can only be accessed by scrolling down multiple times on the game's main screen to bring up the "Dave X Bambi Shipping Cute" menu.
How to Play?
Use WASD or Arrow Keys to play FNF Vs. Dave and Bambi Golden Apple Edition Online Mod on your PC or laptop. + and – to increase/decrease the volume, 0 to mute. Enter to select. ESC to go back.