Play the game
FNF Vs. Chara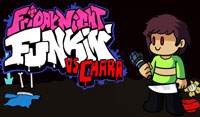 FNF Vs. Chara
FNF Vs. Chara
It's up to you and Chara to take on each other in this Friday Night Funkin' (FNF) mod that involves the main character from one of the three potential endings of the game Undertale (genocide route).
When Chara was born, his family was one of those who had the honour of becoming the first humans "to fall" into the Underworld. While wielding his microphone in one hand and a knife in the other, Chara will demand a lengthy, rhythmic and tough song from you. Sing along to Chara's crazy music and try to make as few errors as possible to stay up with the pace and win the fight. You'll be thrown off course by the music's conclusion, so you'll need skill and practice to complete the task on a hard level.
Tags: Undertale
How to Play?
Use WASD or Arrow Keys to play FNF Vs. Chara Online Mod on your PC or laptop. + and – to increase/decrease the volume, 0 to mute. Enter to select. ESC to go back.