Play the game
Friday Night Funkin' Vs. Garcello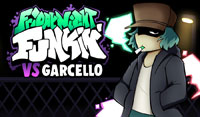 Friday Night Funkin' Vs. Garcello
Friday Night Funkin' Vs. Garcello
FNF Vs. Garcello is an original mod for Friday Night Funkin' that includes three previously recorded tracks. While walking across town, Boyfriend and Girlfriend saw a peculiar illumination coming from the corner of an alley. Garcello, a strange and persistent smoker, was truly the source of the smoke. He will challenge you to a rhythmic but gloomy duel. Find out more about Garcello's journey by singing Headache, Nerves, and Release, the three dueling songs you must perform to win. Try to complete each song and find out why the odd guy sings!
Art, Music, Programming : atsuover / Voice samples, Programming : Rageminer
You can download FNF Vs. Garcello from the Original mod page.
Tags: Boyfriend FNF, FNF Garcello, Girlfriend FNF
How to Play?
Use WASD or Arrow Keys to play Friday Night Funkin' Vs. Garcello Online Mod on your PC or laptop. + and – to increase/decrease the volume, 0 to mute. Enter to select. ESC to go back.