Play the game
FNF Character Test Playground Remake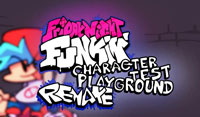 FNF Character Test Playground Remake
FNF Character Test Playground Remake
FNF Character Test Playground Remake is a fan-made game based on the popular rhythm game Friday Night Funkin that offers players a chance to interact with a wide variety of characters from both the original game and various modded versions. The game is designed as a sandbox-style playground where players can experiment with different characters and settings, testing out their abilities and seeing how they might interact with each other in unique and unexpected ways.
The Ultimate Fan Experience
FNF Character Test Playground Remake is the perfect game for fans of Friday Night Funkin' who want to explore the game's vast universe and experiment with different characters. With a wide selection of characters available, including Boyfriend, Girlfriend, Daddy Dearest, Mummy Must Murder, Pico, Monster, Senpai, the Spooky Kids, and Tankman, players can choose their favorites and test out their abilities in a variety of settings.
Modded Characters Galore
In addition to the original cast of characters, FNF Character Test Playground Remake also features a wide variety of modded characters created by the fan community. From popular characters like Tricky, Whitty, and Hex to more niche additions like Kapi, Hatsune Miku, Garcello, Sans, Imposter from Among Us, Servente, Zardy Foolhardy, and Tord, players can experiment with a huge range of characters and see how they might interact with each other.
Endless Possibilities
With such a diverse and dynamic cast of characters available, FNF Test Playground offers endless possibilities for experimentation and play. Players can mix and match characters, try out different settings, and even create their own custom mods and characters using the game's intuitive and user-friendly interface.
Intuitive Controls
Despite its vast array of features and customization options, FNF Character Test Playground Remake is easy to play and navigate. The game's intuitive controls make it accessible for players of all ages and skill levels, while its user-friendly interface makes it easy to customize and create new content.
Tags: Boyfriend FNF, FNF Garcello, FNF Test, Girlfriend FNF, Pico FNF, Tord FNF, Tricky FNF, Whitty
How to Play?
Use WASD or Arrow Keys to play FNF Character Test Playground Remake Online Mod on your PC or laptop. + and – to increase/decrease the volume, 0 to mute. Enter to select. ESC to go back.