Play the game
FNF Wednesday's Infidelity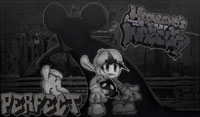 FNF Wednesday's Infidelity
FNF Wednesday's Infidelity
FNF Wednesday's Infidelity, a black-and-white cartoon-style mod for Friday Night Funkin', pits you against Mickey Mouse. Mickey found Minnie enthralled by a lovely stranger on a glorious Wednesday morning. When Mickey was walking alone and terrified, ready to give up and give in to despair, he had an unusual meeting that just could rescue him! What better way to de-stress than a rap fight with Boyfriend? The first song, "Wistfulness," is based on music from the original Walt Disney cartoons, so you can get to know your opponent. After that, things become harder, and you'll be plunged into a more spooky environment. To beat Mickey in the second song, "Dejection," you'll have to remain calm and not be afraid. Boyfriend must use all of his skills to keep up with the frantic rhythms of "Unknown Suffering," which will serve as the conclusion to this epic conflict.
You may find the secret song "Battered" under the Freeplay menu, where you'll have to deal with an accelerated version of Mickey Mouse!
Tags: Boyfriend FNF
How to Play?
Use WASD or Arrow Keys to play FNF Wednesday's Infidelity Online Mod on your PC or laptop. + and – to increase/decrease the volume, 0 to mute. Enter to select. ESC to go back.