Play the game
Lofi Funkin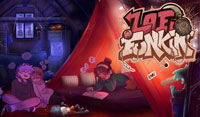 Lofi Funkin
Lofi Funkin
If you're a fan of rhythm games and love Lofi music, you're in luck! Lofi Funkin' is here and ready to take you on a relaxing musical journey with Boyfriend and Girlfriend, as they meet the famous Lofi Girl from the popular French YouTube channel of the same name.
In Lofi Funkin', you'll have the chance to sing along to melodic and soothing tunes during three different weeks, each of which will evoke a special moment. From songs for studying to tracks to fall asleep to, there's something for everyone in this game. You can even relax on a moonlit evening while listening to the calming beats of Lofi music.
But that's not all – Lofi Funkin' also offers original remixes in its fourth week, giving players even more music to groove to. Plus, there's the epic 9-minute-long Lofi Funkin' track, which will transport you to a starry night sky and make you feel like you're floating among the stars.
And if you're not ready to say goodbye to the Lofi Funkin' experience just yet, there's a freeplay menu that offers bonus songs to prolong the fun and relaxation.
It's worth noting that the Lofi Girl YouTube channel and music label was created by a young student named Dimitri from the Émile-Cohl school in Lyon, France. With over 12 million subscribers, the channel has been streaming music since 2017 and all of its illustrations and designs are created by the talented Colombian artist, Juan Pablo Machado.
If you're a Lofi music lover or just looking for a calming and immersive rhythm game experience, Lofi Funkin' is definitely worth checking out.
How to Play?
Use WASD or Arrow Keys to play Lofi Funkin Online Mod on your PC or laptop. + and – to increase/decrease the volume, 0 to mute. Enter to select. ESC to go back.