Play the game
Friday Night Funkin' Vs. AGOTI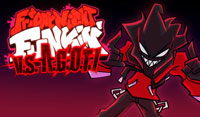 Friday Night Funkin' Vs. AGOTI
Friday Night Funkin' Vs. AGOTI
Face off against the charismatic lead vocalist AGOTI in this Friday Night Funkin' mod! (FNF). One night, when Boyfriend and Girlfriend strayed into a weird passageway, they found themselves confronted by AGOTI, a savage and ferocious demon. To get out of there, the only option is a three-song musical battle versus the strange singer. Until the conclusion of the game, you'll be able to learn about this interesting character's story! Standard, Flip, Chaos, One Arrow, and Stair are all choices for playing the whole week in this mod.
Tags: Boyfriend FNF, Girlfriend FNF
How to Play?
Use WASD or Arrow Keys to play Friday Night Funkin' Vs. AGOTI Online Mod on your PC or laptop. + and – to increase/decrease the volume, 0 to mute. Enter to select. ESC to go back.