Play the game
Tails Gets Trolled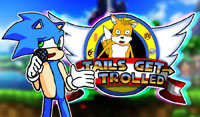 Tails Gets Trolled
Tails Gets Trolled
Tails get trolled again in FNF Tails Gets Trolled, a Friday Night Funkin' mod! Boyfriend and Girlfriend are going to tease him in music this time. Two chapters of the mod require you to sing in time with the beat to win battles. On the track "Talentless Fox," the first test will be against the character Tails. Show him who's the true pro and who just wants to be! No Villains is the song Sonic challenges you to after rescuing his comrade from this clever Troll. To win the rap battle, don't spare the blue hedgehog. A remix of the music from the first chapter of the game can be found in "side tales," where you may take on Tails and Tsuraran Fox.
Lazerbot initially developed Tails Gets Trolled in 2011 as a webcomic. Tails summons his buddies for assistance when a gang of trolls begins to bother him. By debating with them, Sonic wants to attempt to get their cooperation, while Shadow prefers to face them directly.
How to Play?
Use WASD or Arrow Keys to play Tails Gets Trolled Online Mod on your PC or laptop. + and – to increase/decrease the volume, 0 to mute. Enter to select. ESC to go back.