Play the game
FNF Triple Kill – Vs Imposter V4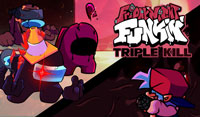 FNF Triple Kill – Vs Imposter V4
FNF Triple Kill – Vs Imposter V4
Are you ready for the ultimate rap battle? Get ready to face off against Pink Imposter, Black Imposter, Gray Imposter, and Maroon Imposter in the exciting FNF Triple Kill mod. Based on the popular song Triple Trouble, this fan-made version is a restored and remixed masterpiece that's sure to get your heart racing.
With its rhythmic music and scene changes, FNF Triple Kill Restored is a condensed and exhilarating experience that will test your skills and keep you on the edge of your seat for over 8 minutes. But be warned, this mod is not for the faint-hearted! Jumpscares and unexpected events are sure to catch you off guard if you're not paying attention.
Throughout the mod, you'll have to switch between adversaries and scenes, sometimes even switching sides with Boyfriend. But don't let the changing landscape throw you off your game! Stay focused and alert to overcome the intense challenges presented by each adversary.
The fate of Boyfriend rests in your hands, so bring your A-game and give it your all! Can you handle the pressure and emerge victorious? Only time will tell. So, take a deep breath and dive into the world of FNF Triple Kill Restored for an experience you won't soon forget! You may also like FNF Vs. Impostor and FNF Multiplayer
Tags: FNF Imposter
How to Play?
Use WASD or Arrow Keys to play FNF Triple Kill – Vs Imposter V4 Online Mod on your PC or laptop. + and – to increase/decrease the volume, 0 to mute. Enter to select. ESC to go back.