Play the game
FNF The Holiday Mod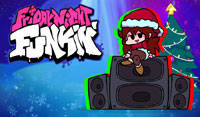 FNF The Holiday Mod
FNF The Holiday Mod
It's Friday Night Funkin' time! Sit back and enjoy FNF The Holiday Mod. The holidays are a great time to catch up on the latest news from your favourite performer.
It's that time of year again: the night before Christmas when youngsters eagerly await the arrival of their gifts. It's not always the presents we expect to get. It may be time to bring in Boyfriend and the rest of his crew to brainstorm a solution. In a song, I'm sure!
This is the second installment of the Holiday Mod, which includes five new songs accompanied by animated cutscenes that depict a new tale. Senpai will be my first opponent in a rap fight! After receiving a critical phone call, you'll be summoned to join Tankman in his struggle against Aerials, who are attempting to spoil the holiday season. "All I Want for Christmas Is You" will be the theme of the third musical battle between Mommy Nearest and Girlfriend. Sadly, the arrival of Santa's sleigh will abruptly end this idyllic family moment. But Tom (Eddsworld) has stolen it, and he is out to ruin the celebration! Sing to keep Pico distracted as he attempts to aim his weapon. You can locate a last Christmas tune in the Freeplay menu if you look hard enough! As far as I know, Zanta Claws will have to adjust to a new game mechanism at the same time as Matt, Tom, and Ed at the same time.
Week 2 is now playable. However, there are still a few lacking elements.
Tags: Boyfriend FNF, Pico FNF
How to Play?
Use WASD or Arrow Keys to play FNF The Holiday Mod Online Mod on your PC or laptop. + and – to increase/decrease the volume, 0 to mute. Enter to select. ESC to go back.