Play the game
FNF: Plants vs. Rappers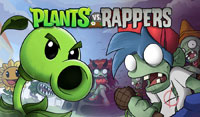 FNF: Plants vs. Rappers
FNF: Plants vs. Rappers
In FNF: Plants vs Rappers mod for Friday Night Funkin you'll have to fight the plants mass-produced by Bloom n' Doom Seed Co.. Boyfriend was buried in a Funkin' graveyard in a bygone period of jazz and folk music when everything abruptly stopped. Now the Boyfriend's mission is to revive Funk and Rap. You'll be on the zombies' side in this challenge for the first time. By signing, you may help Dr Zomboss (the one who called you) destroy the plant horde. Boyfriend will have to sing against simple but hazardous plants during the first rap fight. Beware of their poisonous sprays! 'Bloom N Brains' Bad Bash, the second epic fight awaits you, with the two armies of plants and zombies clashing savagely to the beat of the music. It's also possible to listen to a third song in the Freeplay menu.
In 7 months, Jason The Art Kid produced FNF: Plants Vs. Rappers, a mod for Plants vs Zombies enthusiasts. As the mod is in alpha, future updates should bring more features and content.
Tags: Boyfriend FNF
How to Play?
Use WASD or Arrow Keys to play FNF: Plants vs. Rappers Online Mod on your PC or laptop. + and – to increase/decrease the volume, 0 to mute. Enter to select. ESC to go back.