Play the game
FNF Vs. Selever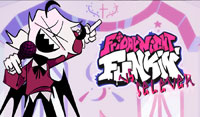 FNF Vs. Selever
FNF Vs. Selever
FNF Vs. Selever is an amazing mod for Friday Night Funkin'.
Funky Friday is here! It's time to good rap battle. Press the arrow keys to the beat of the music to win, and don't leave your opponents a chance to beat you.
How to Play?
Use WASD or Arrow Keys to play FNF Vs. Selever Online Mod on your PC or laptop. + and – to increase/decrease the volume, 0 to mute. Enter to select. ESC to go back.