Play the game
FNF Classified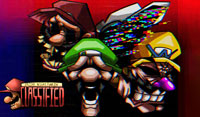 FNF Classified
FNF Classified
Attention Mario fans! Get ready to embark on a musical journey with Boyfriend as he takes on some of the Mario universe's most notorious opponents in the mod FNF: Classified. This exciting adventure begins with a week-long challenge featuring three rhythm songs that will have you tapping your feet to the beat. But that's not all! The mod also includes a hidden side to Mario 64 that you may have never seen before.
Remember the inscription "L is Real 2401" on a statue in the castle garden? Well, it seems that Luigi may not be absent from the game after all. Boyfriend will prove it by facing off against him in a rap battle on the song "Watery Severe." And that's just the beginning. Get ready to chase Wario on the song "Funhouse" and take on a personalized version of Mario in the third song, "Your Copy."
But the adventure doesn't end there. In the Freeplay menu, you'll have access to three additional songs that will truly put Boyfriend's skills to the test. He'll face off against Speedrunner Mario, Gilbert, and Sm64.z64 from the Creepypasta of the same name.
If you're a fan of Mario 64 and rhythm games, then FNF: Classified is a must-play. Get ready to explore the hidden side of the game and accompany Boyfriend on a musical journey like no other. Are you up for the challenge?
How to Play?
Use WASD or Arrow Keys to play FNF Classified Online Mod on your PC or laptop. + and – to increase/decrease the volume, 0 to mute. Enter to select. ESC to go back.