Play the game
FNF Vs. Pibby Corrupted Finn & Jake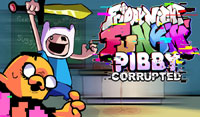 FNF Vs. Pibby Corrupted Finn & Jake
FNF Vs. Pibby Corrupted Finn & Jake
A deadly, furious, and incredibly rhythmic rap battle was about to put the Boyfriend's life at risk in this FNF Vs. Pibby Corrupted Finn & Jake, a game mod for Friday Night Funkin'. Finn and Jack seem to be infected with an unknown sickness in a strange condition. If you survive the previous two trials, Finn will challenge you to a final duel on the song No Hero. The combat is far more deadly and rapid, so don't make any blunders!
Tags: Boyfriend FNF, FNF Pibby
How to Play?
Use WASD or Arrow Keys to play FNF Vs. Pibby Corrupted Finn & Jake Online Mod on your PC or laptop. + and – to increase/decrease the volume, 0 to mute. Enter to select. ESC to go back.