Play the game
FNF Vs. Aflac Remastered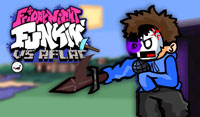 FNF Vs. Aflac Remastered
FNF Vs. Aflac Remastered
FNF Vs. Aflac Remastered, a mod for Friday Night Funkin' in which you battle not only Aflac but also Dave, the character from Dave's Fun Algebra Class! ' Aflac's Minecraft server has mistakenly taken in Boyfriend and Girlfriend, who must show their value over three songs a week. It will begin with quiet presentations in Loaf, and then the duel will get tougher. Blazeborn and The End demand your undivided attention since they move at a breakneck speed.
As part of "Rematch" week, Aflac will release two previously unheard tracks. Getting through the chorus will be difficult, but the week will come to a close with the song Pillar, in which Boyfriend and Aflac say their goodbyes to one another. And who or what is this mysterious cat that appears in each song?
It's time for the last showdown between you and Dave! Chaos, Crisis, and Destruction are only three of his most famous tracks. Friday Night Funkin' is all about Dave causing you to feel unstable, which includes disparaging gestures a lot of the time! Put up a great performance so he won't doubt your talent. Trance and Copy Cat, two previously unheard tracks, will be available in the Freeplay menu.
Tags: Boyfriend FNF
How to Play?
Use WASD or Arrow Keys to play FNF Vs. Aflac Remastered Online Mod on your PC or laptop. + and – to increase/decrease the volume, 0 to mute. Enter to select. ESC to go back.